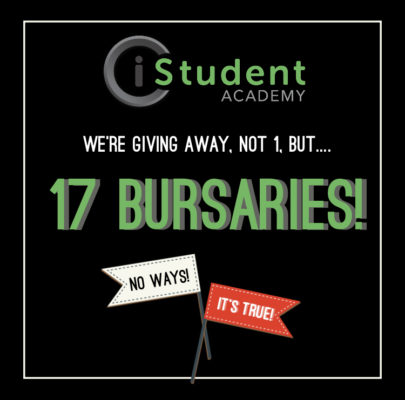 In 2018, iStudent Academy gave away R440 100,00 worth of bursaries to deserving students.
NOW we want to help even more students follow their dreams!
Our graduate success stories include:
– Microsoft Regional Director KZN
– 3rd place Team in SA for Hackathon
– Winner of Grindrod Systems Support Internship
– Successful work placements (Derivco, NetVendor, Netelligent and many more)
There is no competition – iStudent Academy is the leading college of technology!
────
HOW DOES IT WORK?
────
17 Bursaries up for grabs across our 5 campuses!
Bursaries available to study the following SAQA Accredited and internationally accredited Qualifications:
1 year I.T (Microsoft Certified in Programming or Networking)
2 Year I.T Engineering (Microsoft Certified Programming, Networking and Cisco Certified Network Associate)
2 Year Graphic Design (Adobe Certified Associate)
2 Year Computer Aided Design and Draughting (Autodesk Certified User, South African Institute of Draughting Registered)
────
The following Bursaries are allocated per region:
KZN – 1x 100% Bursary, 3x 50% Bursaries (Durban and Pietermaritzburg campus)
CPT – 1x 100% Bursary, 3x 50% Bursaries (Cape Town campus)
JHB – 1x 100% Bursary, 3x 50% Bursaries (Johannesburg campus)
BFN – 5x 50% Bursaries (Bloemfontein campus)
────
WHO CAN ENTER?
Please read the Terms and Conditions document carefully to ensure you meet the eligibility requirements.
1.You may enter if you are currently in Matric or have already finished Matric, but you may not be older than 30 years of age.
2.Your first choice of study must be one of the above-mentioned courses.
3.You must be able to provide all substantiating documentation stipulated on the entry form.
4.You must agree to the Terms & Conditions document.
5.You must commit to studies in 2020.
────
HOW DO I ENTER?
Download the entry form and Terms & Conditions forms below, or contact our campuses for more info!
The completed entry must be delivered to your chosen iStudent Academy campus by 31 October 2019.
Alternatively, you may scan and email all required documents to info@istudentacademy.co.za
────
iStudent Academy DBN: 16 Peter Mokaba Ridge Berea | 031 277 2001
iStudent Academy PMB: 460 Townbush Road, Cascades | 031 277 2002
iStudent Academy BFN: 6 Bermakor Park, 52 Reid St, Westdene | 087 255 9627
iStudent Academy JHB: 0B Forest Road Pineslopes Office Park Block C, Sandton | 011 465 1405
iStudent Academy CPT: 1 Century City Dr, 4th Floor Aurecon Building, Century City | 021 824 1170